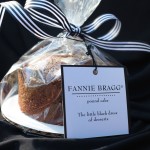 Like her mama, the Fannie Bragg Classic Cake, "Ma Petite" is made with premium ingredients. She weighs in at about 6 ounces and fits in the palm of your hand. You can share with a friend, but no one will blame you (or know)  if you keep her all to yourself.
"Ma Petite" is available in our classic sour cream, lemon and chocolate.
Serves 1. Serves 2 if you feel like sharing.
"Ma Petites" are packaged in clear cellophane and dressed to the nines.